Help others in need with your old IT assets
For those with very little, a Chromebook can mean EVERYTHING…

2nd Chance Electronics is making a significant impact in the community by generously donating thousands of Chromebooks to various non-profit organizations. These organizations play a vital role in distributing the computers to those in need, including students, disabled individuals, veterans, homeless people, and many others. By providing these Chromebooks, 2nd Chance Electronics is empowering individuals who may not have access to technology, bridging the digital divide and creating opportunities for education, communication, and personal growth.
The donation of these Chromebooks is especially impactful for students who rely on technology for their academic pursuits. With access to these devices, students from disadvantaged backgrounds can now engage in online learning, complete assignments, and explore a world of knowledge right at their fingertips. This initiative not only helps level the playing field but also enhances the students' overall educational experience, enabling them to reach their full potential.
Moreover, 2nd Chance Electronics's donations extend beyond the realm of education. By providing Chromebooks to disabled individuals, veterans, and homeless people, they are empowering these individuals to connect with others, access valuable resources, seek employment opportunities, and rebuild their lives. This act of generosity demonstrates 2nd Chance Electronics's commitment to inclusivity and social responsibility, fostering a sense of belonging and support within the community.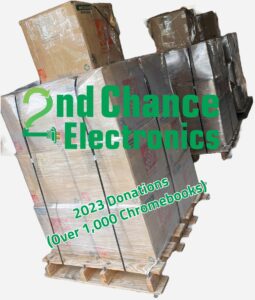 Through our donations, 2nd Chance Electronics is making a tangible difference in the lives of countless individuals, giving them the tools they need to thrive in today's digital world.
Apply here for FREE Chromebooks for your non-profit organization:
We offer an all-in-one IT Asset disposition (ITAD) service.
We save our customers time and money!
RESALE & RECYCLING
We operate as a convenient, one-stop service for all of your end-of-life IT asset needs. We provide a wide range of IT disposition services so that you can keep your business running efficiently. Let us handle the heavy lifting and detail-oriented decommissioning process of computer disposal/recycling/resale.
We strive to reduce landfill waste by partnering with local, responsible eScrap processors. Goods that are deemed to have a charitable or resale value will be carefully refurbished and reintroduced into the marketplace. This unique procedure takes recycling a step further by reducing burn-down rates, and helps guarantee our competitive pricing structure.
DETAILED REPORTING
2nd Chance Electronics offers detail-oriented manifests of your IT assets. When you sell us your goods, we will provide a full detailed report of computer serial numbers, hardware specifications, possible defects, and physical conditions.
Special Services Offered:
DoD/NIST 800-88 Data Destruction (with Serial Number Receipt)
On-site hard drive removal with receipt (You keep the drive)
Detailed IT Asset Report – FREE with every transaction.
ON-SITE SERVICES
We offer commercial pickup services at our customer locations at very affordable prices.
We currently service the following cities:
Missoula, MT
Kalispell, MT
Polson, MT
Flathead Reservation, MT
Helena, MT
Great Falls, MT
Bozeman, MT
Other Montana, Idaho, Wyoming, and Canadian Locations – Please contact us.